PHENOL
Phenol is a versatile industrial organic Chemical. The largest end use of Phenol is in Phenol-formaldehyde resins used in wood additives as well as moulding and laminating resins, paints, varnishes and enamels.
Phenol which is also referred to as Carbolic Acid, or Monohydroxy Benzene is used to produce a wide variety of chemical intermediates, including Phenolic Resins, Bisphenol-A, Caprolactum, Alkyl Phenols, Adipic Acid, Plasticizers, etc.
Phenol is also used in the manufacture of preservatives, disinfectants, lubricating oils, herbicides, insecticides, pharmaceuticals, etc.
Oxidation Section
This is the first step of synthesis employing the low temperature liquid phase oxidation of Cumene to Cumene hydro peroxide (CHP) in the oxidizers. Oxygen is derived from air and the reaction is carried out in an alkaline environment. The oxidation is a highly exothermic reaction.
Phenol : 40,000 TPA
Acetone :24,640 TPA
Evaporation Section
In this section, CHP is concentrated in two steps from approximately 25-wt % to 80-wt%.
Cleavage Section
Concentrated CHP from the evaporation section is fed into two parallel cleavage reactor circuit along with concentrated sulphuric acid catalyst. Under controlled condition of temperature and acidity, CHP is cleaved to phenol and acetone and byproducts.
Direct Neutralisation & Effluent Treatment Section
This section perform four main functions:
i) Neutralisation of the acid used as catalyst in the cleavage section.
ii) Washing of salts from the organic phase, which results from the neutralization.
iii) Recovery of phenol and acetone from several effluent streams.
iv) Springing of phenol recovered as sodium phenate from the effluent streams.
Fractionation section
This section mainly consists of six columns to separate and purify phenol and acetone and to recover Cumene and AlphaMethylStyrene (AMS).
Hydrogenation Section
The alphamethylstyrene (AMS) is hydrogenated back to Cumene. The reaction is carried out over a fixed bed of catalyst.
Hydrogen peroxide plant
This plant is based on UHDE's Ethyl Anthraquione process .2-Ethyl anthraquinone (2-EAQ) the effective reactive component is dissolved in mixture of solvent called working solution. It is reduced by hydrogenation using palladium catalyst in the first step and further oxidized to generate Hydrogen peroxide and spring back 2-EAQ.
The hydrogen peroxide generated is extracted from the working solution using demineralised water. The working solution is recycled back to the hydrogenator and the above - mentioned reactions are carried out repeatedly.
The weak hydrogen peroxide (35% concentration) is subjected to vacuum distillation to increase the strength to 50% or 70% as per the requirement.
A small portion of working solution prior to hydrogenation is subjected to chemical treatment to remove or control the accumulation of side reacted products.
The process flow diagram for hydrogen peroxide plant is enclosed as figure.2
H2O2 PLANT PROCESS BLOCK DIAGRAM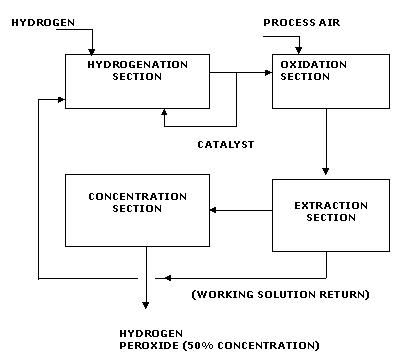 Utility Section
The phenol and Hydrogen peroxide plants are provided with these service systems.
| | |
| --- | --- |
| | Steam system |
| | Cooling water system |
| | General utility system (Nitrogen, electricity, process water etc) |
| | Hydrogen plant 1&2 |
| | Captive power plant for power |
| | Tankage system |
| | Refrigerated water for phenol plant |
| | Tempered cooling water for phenol plant |
| | Hot oil system for phenol plant |